Cleaning fabrics for cleanrooms
Our range of cleanroom fabrics consists of fabrics made from ultra-clean fibres that use a specific process. This fibre contamination control enables the manufacture of cleaning fabrics to be optimised in terms of cleanliness and cost.
In order to meet the needs of our customers in their cleanroom contamination control strategy, we have developed a wide range of sizes, finishes, edges and/or compositions of our cleanroom fabrics:
Various sizes from hand to floor format
Compositions: non-woven, polyester, polyester nylon microfibre, single or double ply
Edge finishing: wide, ultrasound, laser
Sterile versions SAL 10-6
Grammage, absorption, cleanliness, etc.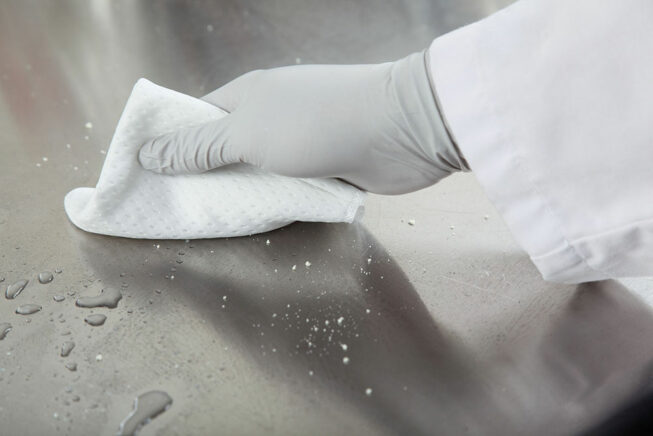 Hand-size cleanroom fabrics
Our hand-sized cleanroom fabrics are very versatile cleaning fabrics. They are intended for general wiping in cleanrooms and for cleaning the inside of tools or other equipment in production areas. Combined with disinfection solutions, our cleaning fabrics are a central part of contamination control strategies.
Our cleanroom fabrics generate very few particles or fibres and have excellent chemical resistance. They are compatible with most solvents.
Multiple finishes cover a maximum of needs for wiping cleanrooms, depending on your surfaces to be cleaned, your fields of activity or the classification level of your cleanrooms.
Cleanrooms floor fabrics
Floor disinfection is an important part of the decontamination process and for this reason our cleanroom floor fabrics are designed to meet the specific needs of this type of cleaning.
Available in a variety of sizes and compatible with cleaning accessories, these fabrics are a cleanroom wiping solution with a high absorption capacity and very low particle release.
These floor cleaning fabrics have excellent performance ion solvents and very good abrasion resistance.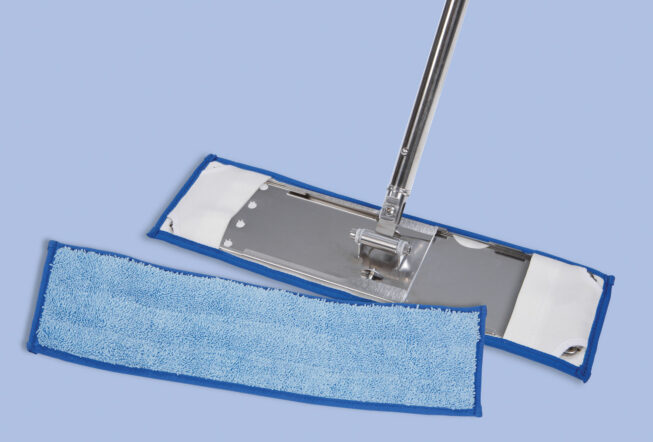 Drawing on its experience in controlling contamination, STERIGENE has carefully selected manufacturing partners, qualified for their professional expertise, and has developed its own brand: CLEANVIEW specializing in clean room and laboratory consumables.

What is CLEANVIEW?
These are several ranges of easily identifiable, quality and qualified products for clean rooms according to current standards and according to your needs: choice of materials, profitability and quality.
Why an own brand?
To expand the STERIGENE offering with greater responsiveness in order to best adapt to your specific needs while offering products at an attractive price.

A SET OF EXPERTISE TO (RE)DISCOVER