STERIGENE's training body is QUALIOPI certified and is thus a state-recognised trainer for a period of 4 years.
Our certification process
The legal obligation for certification, which was initially planned for January 2021, has been postponed to January 2022 due to the current health crisis. All organisations implementing skills development courses will have to be QUALIOPI certified to benefit from public or mutualised funding.
STERIGENE, which is always one step ahead, started the process well in advance.
The Quality & Training Director, Marie-Grâce Dumax, led the QUALIOPI certification process for the training courses, which are managed by the Technical Director, Lionel Bougard. The organisation meets the standard's requirements for training courses, and was therefore certified on 5 October 2020 for a period of 4 years. The STERIGENE training organisation is QUALIOPI certified.
This means that STERIGENE can provide quality training with a state-recognised body to the staff of its client companies or other organisations.
Click here to download the QUALIOPI certificate for the STERIGENE training body.
STERIGENE training courses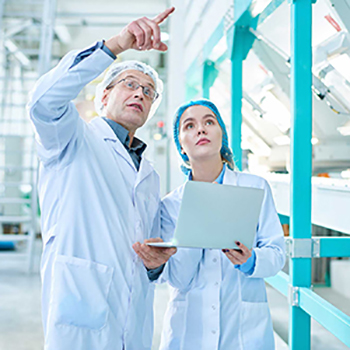 STERIGENE's declaration as a training organisation came into practice when the company was created. Its organisation is based on an ISO 9001-2015-certified Quality Management System. Training services are provided by qualified personnel.
The training provided is mainly focused on the use of process equipment and sterilisation processes, the company's area of expertise. This helps the employees of client companies understand and master the various process equipment that make up their pharmaceutical, cosmetic and biotechnology production lines (water treatment, autoclaves, STILMAS distillers, tools for optimisation, micro-organisms, EN285 standard, etc.).
This training is mainly carried out at the customer's premises by the technical director himself.
Click here to see all of our training courses.
This certification was born out of the need to create a reliable and unique benchmark to certify the quality of the process of delivering actions for skills development. This certification will be compulsory to access public or mutualised funding from 1 January 2022.
It is a unique quality certification based on a National Quality Reference System (NQRS) and delivered by independent certifiers, thereby enabling access to public or mutualised funds. It provides greater clarity of the training package for the public, by associating quality certification with a brand.
The benefits for companies wishing to train their employees:
Be reassured about the professionalism of the training company chosen for their employees
Claim financial responsibility
Simplify and guide the training process for their employees