STEAM QM-3 : STEAM QUALIFICATION (EN285)
Pure fluids





Steam quality qualification for STEAM QM-3 autoclaves.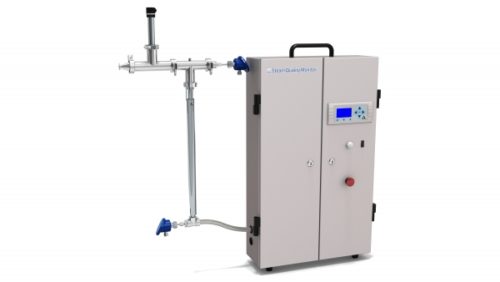 Until recently, the steam quality control was calculated largely through a manual process. This incurred the risk of inaccuracies, lacked any inherent security and was very time consuming. The STEAM QM-3 (patent pending) offers an intelligent solution for all those who want or need to control their saturated steam production-distribution process according to international recommendations and regulations. The STEAM QM-3 contributes easily and effectively to the qualification of the steam quality used in the pharmaceutical, cosmetic, and food industries, in fields of research,in the health sector and in hospitals.

The QM-3 STEAM is an automatic device that checks steam quality by continuous monitoring of parameters such as steam purity (fraction of liquid water in the steam), the concentration of non-condensable gas (CNG), and the amount of superheat present, guided by principles that are comparable to the extensive standardised methods found in EN 285.
EN285 is a European standard dedicated to large steam sterilisers that process medical devices in healthcare institutions. Like HTM 2010, it describes in particular the traditional method for the 3 aformentioned tests. It requires acceptability thresholds of: ≥ 0.95 for the purity, ≤ 3.5% (gas / liquid) for CNG and <25 ° C for superheat, on the basis of the proposed modus operandi.

The STEAM QM-3 not only enables compliance checking of the recommended objectives, but also offers new investigative perspectives on the complex phenomena of "wetting / drying" related to the steam with a possibility of detailed trend analysis ensuring better overall control of "steam consumption" and a very significant return on investment.
Application examples:
clean or pure steam generators,


autoclaves,


process vessels,


heating or drying exchangers or systems, disinfection/decontamination ,


aseptic fillers and freeze dryers with SIP


and more generally all equipment using saturated steam.

Caps
Cartridges
Equipments
Flasks
Liquid ampoules
PE and PP single dose ampoules
Syringes
TECHNICAL DATA
Product Features :
Simplified "Plug and Play" installation simultaneous testing and continuous display of parameters: Title - CNG - superheat portable and mobile device at each point of use unit is compact and pre-mounted, promoting repeatability


Quick to implement


Secure and reliable alternative method to traditional manual sampling accuracy +/- 1% on the steam dryness test (purity) result RS485 output for the management of data and recordings onto compliant external systems
Scalable system for trend analysis and process control