FCIS PHARMACEUTICAL ISOLATOR
Sterilisation


The FCIS pharmaceutical isolator have been designed for pharmaceutical dispensing/handling of API and high potent ingredients, to assure sterile continuity after unloading sterile process equipment and to guarantee aseptic filling during manufacturing phase.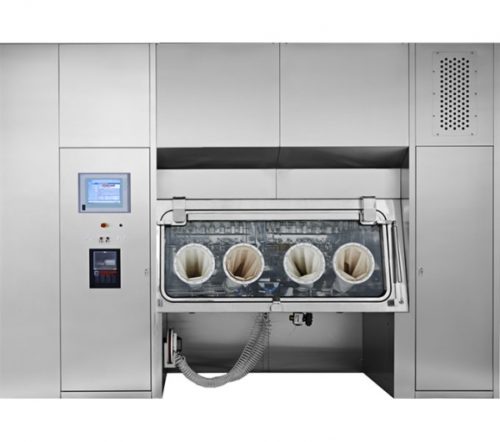 Pharmaceutical isolator can be integrated with a side transfer hatch designed to introduce and remove all the containers and material necessary for the process. To avoid false positives, a Fedegari HPV peroxide vaporizer is provided, which can be used to launch a chemical decontamination cycle of the surfaces before starting to use FCIS in an aseptic environment. The isolator is equipped with FHPV (FEDEGARI Hydrogen Peroxide Vaporizer).
Cartridges
Flasks
Liquid ampoules
PE and PP single dose ampoules
Powders
Syringes
TECHNICAL DATA
AISI stainless steel chambers with bright annealed surface finishing (Ra ≤ 0.4 μm).
Manufactured to the highest GMP quality standards.
Doors are protected with a double gaskets system to ensure the highest level of safety for the operators.
Integrated pressure decay leak test both for chambers and gauntlets Exhaust air from the isolator is filtered by a H14 HEPA filter before being expeled to outside environment.
Customizable and modular unit manufactured according to customers' needs.