TABLETOP FILLING MACHINE FOR AUTOMATIC PROCESSING OF VIALS AND BOTTLE
Filling





The process equipment SX-100 is a filling and closing machine for automatic processing of vials and bottles in glass, plastic, or metal, for liquid, semisolid, and powder products, in sterile areas or clean rooms.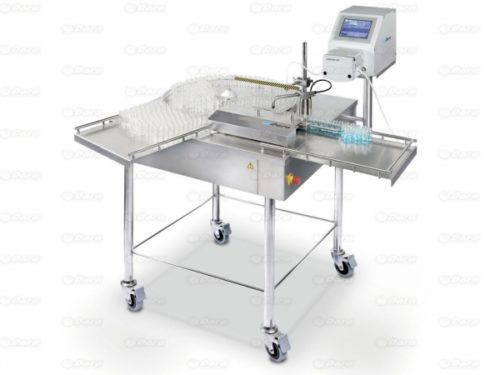 The design has been made for use in sterile areas, in compliance with cGMP and US FDA regulations, and in special accordance with the requirements of the pharmaceutical, biotech, cosmetic, chemical and similar industries.
Diving nozzle system.
Gravimetric dosing system, through scale.
Gas flushing before, during or after the filling process.
Laminar flow unit / RABs / Isolator unit.
IQ / OQ Validation package.
Printing / Codification.
Cartridges
Flasks
Syringes
TECHNICAL DATA
The filling station can be equipped with a peristaltic pump for liquid products, or with a volumetric filling station for viscous or powder products.

The changeover to a different format can be carried out quickly and without tools. The adaptation to different heights of containers is made through digital positioning gauge.

This equipment is suitable for clinical trials or medium production batches.