ELASTOMERIC CLOSURES TREATMENT
Sterilisation


Stérilisateur spécial destiné au traitement (stérilisation et lavage) des bouchons élastomères.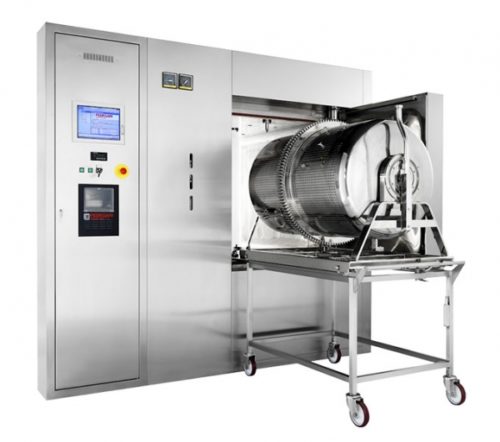 Thanks to a wide experience in the pharmaceutical industry, Fedegari has developed a special sterilizer addressed to elastomeric closures treatment. This process equipment can perform washing, rinsing, siliconizing, sterilizing, drying and automatic unloading of stoppers in a sterile area. All these processes are managed by Thema4 process controller.
Bio-pharmaceutical


Laboratory
AISI 316L stainless steel chamber.
Chamber range from 200 to 6.800 liters, but loading capacity is fully customizable, according to customer's need.
Chamber internal surface is mechanically polished and complies with rigorous pharmaceutical standards, with a roughness Ra <0,4 μm.
6 PT100 RTD temperature sensors to monitor chamber and product temperature (3 flexible, 2 fixed + 1 located in the door-chamber jacket).
Two doors with hinged opening systems to cope with available space in the smartest possible way (unloading side comes with semi-automatic door when chute is installed)
Caps
Cartridges
Flasks
Powders

Download the documentation
TECHNICAL DATA
Dual-purpose unit: saturated steam sterilizer or elastomeric stopper processing.
Double option for unloading in sterile area.
Rotating drum with magnetic coupling: no obstruction in the chamber.