Autoclave sterilisation is currently the fastest and most efficient way to sterilise critical products, but packaging these loads is too often constraining in terms of cost and time. This is why STERIGENE offers you its wide range of ultra-clean packaging for sterilisation.
These sterilisation packs have been developed for autoclaving and their multiple formats offer a wide range of packaging capacity for loads of various sizes:
Bags and sleeves with one side Tyvek® and one side laminated film
100% Tyvek® covers, hoods and tie bags
Discover our ultra-clean sterilisation packaging.
---
Breathable and peelable bags and sleeves
STERIGENE offers you ultra-clean bags and ultra-clean sleeves with two sides with different characteristics:
Tyvek® side: excellent microbial barrier with a very good saturated water vapour transfer coefficient
Laminated film side: transparent for perfect product visibility
Advantages:
Easy and innovative opening with peel-off strip:
Clean peel with aseptic conditions at the point of use
Accidental damage avoided when using cutting devices
Practical closures: soldered or with adhesive
Perfectly suited for your heavy and bulky loads
EN868-5 compliance
Manufactured and packed in cleanrooms
100% Tyvek® covers, hoods and bags
Our ultra-clean covers, ultra-clean hoods and tie-bags offer perfect steam penetration for your autoclave sterilisation.
Manufactured to the highest technical specifications, these products are available in a range of sizes to suit all types of loads and requirements.
Advantages:
Tyvek®: excellent microbial barrier and high mechanical strength
Elasticated Tyvek® covers
Covers available in small packages
Easy to use: latex-free elastic closure systems or Tyvek® ties
A solution to reduce musculoskeletal disorders (MSD)
---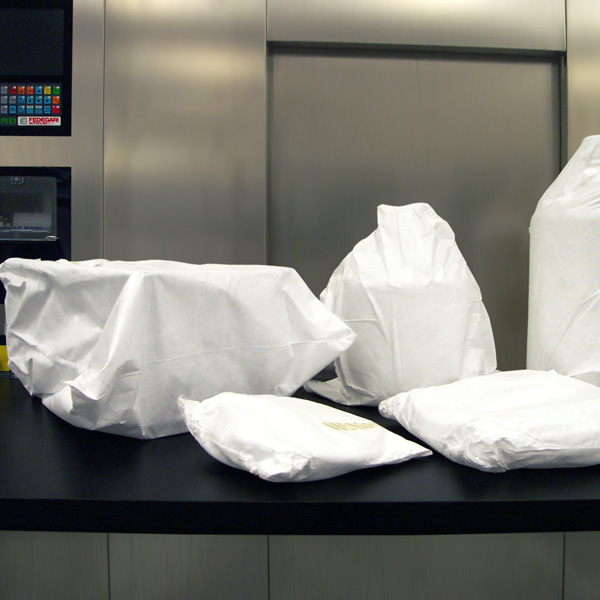 All our consumables and small equipment for cleanrooms are available from our STERIGENE-STORE.
Exclusively for professionals, public entities and private companies in all business sectors, STERIGENE-STORE enables you to order, pay for and manage all your orders online.
With its experience in contamination control, STERIGENE has carefully selected manufacturing partners, qualified for their expertise in the field, and has developed its own brand: CLEANVIEW specialises in cleanroom and laboratory consumables.

What is CLEANVIEW?
It is several ranges of quality products that are easily identifiable and qualified for cleanrooms according to the standards in force and according to your needs: choice of materials, profitability and quality.
Why an own label?
To expand the STERIGENE offer with greater reactivity, in order to best adapt to your specific needs while offering products at an attractive price.